ANNE FINE
This is the official web site of Anne Fine, the second Children's Laureate and a distinguished prize-winning writer for children of all ages, with over forty books to her credit. She has also written for adults to considerable critical acclaim. This site has news and information about Anne, and showcases her books.
Twenty years of Children's Laureates
2019 marks a milestone: the 20th anniversary of the post of Children's Laureate in the UK. The job was very new when Anne became the second Children's Laureate, taking over from Quentin Blake, but now there have been ten very different Laureates, writers and illustrators and people who do both, and that's something to celebrate. Anne was at the launch party in London with almost all her fellow Laureates (only Quentin Blake couldn't be there), and she says "It was a very merry occasion. With cupcakes and fizz." You can join in the celebrations, with Laureates events and a competition for schools - find out more on the Booktrust website.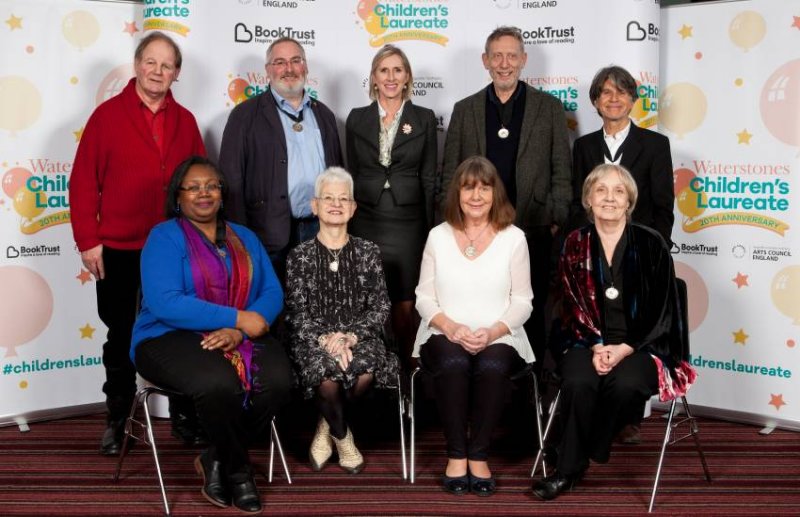 How the Children's Laureate championed young literature (BBC report).
You can read more about the second Children's Laureate on this site; or read Anne's Letter from a Laureate on the Booktrust site.
Happy Birthday, Goggle-Eyes!
Goggle-Eyes was first published in 1989 - that's 30 years ago! Here's a birthday message from Anne Fine:
Writing a book seems to take FOREVER. Alone at your desk, you ask yourself almost every day, "Is this book worth it?"
Not a judgement that's easy to make at the time.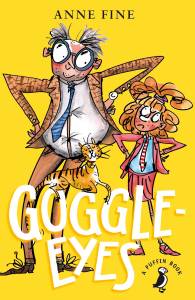 Look back years later, and the answer may be a good deal clearer. (Not always! Herman Melville's own lifetime saw pitifully few readers of his great novel Moby-Dick.) But June is the thirty year anniversary of Goggle-Eyes, and not only is the novel still in print, but it's being reissued with a invigorating new cover by the lively Mark Beech, along with an afterword.
What's changed in all those years since I first wrote this story of the entrenched disagreement between lippy young political activist, Kitty, and her new conservative stepfather figure, Gerald Faulkner, whom she calls Goggle-Eyes (based on my dad)? Mostly, to my astonishment, the tactics of the police. And not much else. Apart from that, the issues in the book are easily mirrored by those for young people in today's world.
Goggle-Eyes won both the Carnegie Medal and the Guardian Children's Book Award, and over the years I've been told by so many readers that it's the book of mine they've loved the most. Those from split families have a particular affection for the story, and maybe that's because there are no villains in it. Everyone's trying their best. The problem is that everyone (except for Kitty's easy-going young sister, Jude) is coming at life from a different perspective. We can all learn from that.
The Russians have some extremely strange proverbs. "The further into the woods you go, the more trees you will find." At first, they sound unhinged. But you read Goggle-Eyes, and you will realise there is a depth to them you never saw before.
"Trash, or treasure?"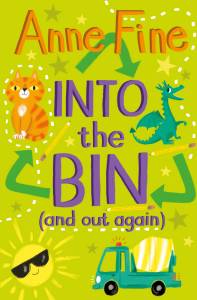 When the children were young, and their rooms had turned into garbage tips, I'd go in with two large black bin bags and a firm purpose. Picking up every single item in turn, I'd ask, "Trash, or treasure?"
They'd snatch all treasures and heap them on the bed. Dried-up felt pens and banana skins went into the rubbish, and things they never wore or played with any more were dumped, after a lot of squawking, into the charity shop bag.
The problem was that other members of the family gathered like gannets round the charity bag. "I can use that!" "That's perfect for my school project!" "You can't throw that away. I want it." Oh, our family was well into recycling even before it became so popular - and so important.
Into The Bin is a short, easy-to-read comedy. Mr Frost keeps tripping over the bright red, but unstable, class waste bin, so plans to chuck it out. Georgia insists it should go to a charity shop. "Someone will love it!" And several members of the class bring in unwanted items to fill it up before it goes. But (as with my own sad, doomed attempts to clear our family home) someone else, it seems, can always find a brand new purpose for a fierce-looking china cat, a tiny cereal box dragon, a book about worries and the loudest toy truck in the world. Will even the bright red bin that started things get thrown away?
Tailors, Pebbles, and Other Fairy Tales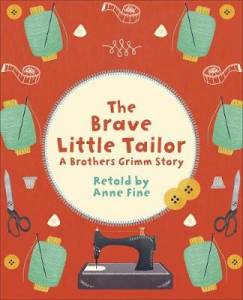 I absolutely hated this story when I was young,

says Anne.
In fact, looking back, I see that I sorted all the fairy tales into those I adored (like The Twelve Dancing Princesses, Snow White, Puss in Boots and Cinderella); and fairy tales I utterly despised.
Like this one.
The little tailor was so stupid. Stupid to be bragging about killing seven flies already stuck fast in jam. Stupid to rescue a bird from a bush, then put it in his pocket. Stupid to squeeze the cheese so hard the whey dripped out. Stupid to tangle with a giant in the first place.
But one of the things I have always loved most about this job is that you can turn anything you write into a technical challenge. So that's the way I've gone. I've told the story straight. But the reader does have to come to his or her own conclusion. Was he actually so truly resourceful and inventive that he deserved to win the great prize that becomes his at the end? Or was he just dead lucky all along?
This author isn't telling. Read the book!
Find out more about The Brave Little Tailor - and you can read about Anne's version of The Twelve Dancing Princesses, too.
For grown-ups who want a different perspective on fairy tales, Anne's Keynote speech to the conference of BASPCAN, the charity and membership association for child protection professionals is now online: it is called: Pebbles in the Fairy Tale.
Honorary Degrees
If you've ever looked at Anne's Awards and Honours page, you'll know that as well as those two Carnegie medals, and lots of other prizes for one book or another in particular, she has been awarded several honorary degrees. In fact, she started 2017 with a degree ceremony at the University of Leicester, where she was presented with a fourth Honorary Doctorate. What's it all about? Anne explains: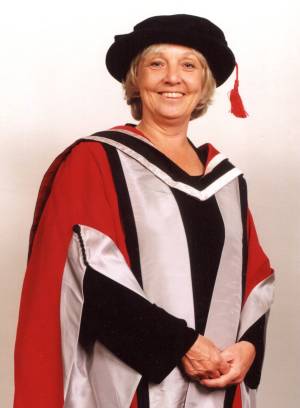 I never really grasped the point of 'honorary' degrees. After all, either the recipient knew enough to get a 'real' degree, or they didn't. Why offer one to someone who hadn't done the work?

Now I have several, I feel a good deal differently. I've realised that, as almost everyone goes through their professional life, the people around them can't help but form a view of their body of work. And if that's a positive opinion, and a prestigious institution chooses to make it both plain and public, that's inspiriting and encouraging. (After all, everyone who works hard asks themselves from time to time, "Has all this effort been worthwhile?" So it's immensely cheering to be told so openly, "Yes. Yes, it was.")

What pleases me most is that I have links with almost all the places that have honoured me. I was born in Leicester, and last week that city's university awarded me an honorary doctorate. I studied at Warwick, where I was given another some years ago. Ever since I moved to the north east, and found out how much I loved it here, I've spoken up for the area. So it was lovely to be honoured by the University of Teesside. My secondary schooling was all in Northampton, so I am especially proud of my honorary fellowship from that university. And growing up there turns me into a woman from the Midlands, so I'm proud of my doctorate from the University of Central England in Birmingham.

(Just for the record, you're given a beautifully designed degree certificate in a classy holder. And they take photos of you in the fancy official university robes and cap - I'm much less keen on those!)
---